Sophia Electric Princess 300B Mesh Plate Tubes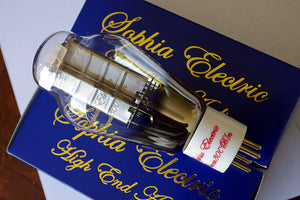 Reviewed by Hi Fi+ (Issue 48, page 88)
Reviewed by Tone Audio (Issue 5, page 71)
Sophia Electric Princess Mesh 300B Tubes
I am a staff reviewer for the website hometheaterreview.com and recently started a reviewing process of 300b tube based push/pull amplifiers. I also have been collecting information on the most highly regarded current production 300b tubes to select which brand has the most to offer regarding sonic performance. The tubes by Sophia Electric kept making the "best" of lists and top recommendations according to many professional and lay reviewers. I had in house for review a wonderful sounding 300b intergrated amplifier which was sent to me with the stock tubes (Full Music 300B mesh plate tubes). Therefore, I was very curious how much the sonic performance of this piece could be raised by experiementing with better regarded 300b tubes. I\'m a seasoned listener so I knew that great tubes can make a significant difference for the better in any gear that they are rolled into.
When I contacted Sophia Electric I had the pleasure of talking to Sue regarding the different aspects/sonics levels of 300b tubes her company produces. She was very informative and helpful and we decided to go for a matched quad of the Princess 300b mesh plates. Even before these tubes were burnt in the following list of dramatic changes took place:
1) Much lower noise floor so micro-details were more apparent and clearer then before.
2) The top end was much more airy and extended with beautiful and natural timbres.
3) The bass was much more extended with better control.
4) The layering in the soundstage was more precise, with more air around each individual player.
5) Finally, and this was just so beautiful, was a much higher level of harmonic density and purity.
The performance of this already great sounding amp was taken to a much higher level by putting in the two pairs of the Princess 300b mesh plates. Just think, this is Sophia Electric's third best tube, what the heck would their Royal Princess 300b sound like! That will have to wait for future auditioning in my reviewing process. I give this tube a very high recommendation for both build quality and sonic performance.
Terry London, Staff Reviewer
hometheaterreview.com
Note: S.E.T. Princess 300B tube models are proprietary products of Sophia Electric Inc. Due to popularity of these Princess 300B products, there are many look alike (or early ST model) in the market trying to get a share of success from those who can be easily switched.

Sophia Electric S.E.T. Princess 300B mesh plate tube is the upper class model of the current 300B line (globe shape is still in production). This new tube is using the same 300B plate(as the globe 300B) with stronger plate structure learned from making the original princess tubes. It is a true 300B tube. It will work with all 300B amplifiers (Western Electric 300B direct replacement).

The glass enclosure was from the Princess 206 tube for its unmatched sonic beauty. The shape of glass enclosure does make a major difference. Just thinking of violin's shape, if it gets changed to triangle, the sound character of violin will change for sure.

Sophia Electric engineers have conducted many hours of audition and comparison. In the end the current shape of Princess tube glass enclosure is the most preferred choice sonically. It has more volume and more curved than the old ST. It is not the old ST came back rather it is a carefully crafted, researched new 300B model. The result is a 300B mesh plate tube with super clarity, low distortion and out of this world mid range fullness and liquidity. High frequency extension and sweetness is the first thing you would hear.

True 300B standard:

This is a true 300B tube that is 100% interchangeable with the popular Sophia Electric globe shaped 300B mesh plate tubes and Western Electric 300B tubes, as well as current production Chinese/Russian 300B tubes (with WE 300B standard).

Distribution and availability:

It is important to note that the S.E.T. Princess 300B mesh plate tube is proprietary product of Sophia Electric and exclusively available through Sophia Electric and their select Authorized Retailers.

Pricing: $475 per premium matched pair with 30 days warranty  


Shipping:
For U.S. domestic shipment, we use USPS priority mail with insurance -- $15 for up to 4 tubes. Express shipping is also available at higher shipping cost.
For international shipment, we either use DHL or USPS express. Please email us your country and city, so we can find out the shipping cost for you.

Copyright@2004 - 2022 Sophia Electric, Inc. All rights reserved.