Clearance: Sophia Electric Princess Carbon Plate 300B Vacuum Tubes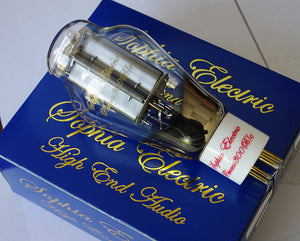 We have two brand new matched Princess 300B carbon plate tubes with a small loose piece of glass inside the glass enclosure, which will not impact its sonic performance nor its lifespan.
Price is for one tube with 30 days warranty.  Two matched tubes are available.
Reviewed by Hi Fi+ (Issue 53, page 134 and 135)
Note: S.E.T. Princess 300B tube models are proprietary products of Sophia Electric Inc. Due to popularity of these Princess 300B products, there are many look alike (or early ST model) in the market trying to get a share of success from those who can be easily switched.
We have been selling this S.E.T. Princess 300B carbon plate tube as rigid plate 300B tube since April, 2006. So far the feedbacks from users are very positive. It has totally different sonic characters compared to the ever popular S.E.T. Princess 300B mesh plate model. Much like carbon composite Allen Bradley resistors in a single ended amplifier, this carbon plate 300B does have its carbon flavor and charm.
Pricing: $650 per premium matched pair with 30 day warranty (ceramic base).
True 300B standard:
This is a true 300B tube that is 100% interchangeable with the popular Sophia Electric Princess 300B mesh plate tubes, globe 300B mesh plate tubes, and Western Electric 300B tubes, as well as current production Chinese/Russian 300B tubes (with WE 300B standard).
Shipping:
For U.S. domestic shipment, we use USPS priority mail with insurance -- $15 for up to 2 pairs. Express shipping is also available at higher shipping cost.
For international shipment, we either use DHL or USPS express. Please email us your country and city, so we can find out the shipping cost for you. 
Copyright@2006 - 2018 Sophia Electric, Inc. All rights reserved.