Sophia Electric 300B+ Carbon Plate Tube - Double tall plate structure, double power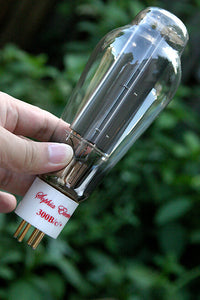 300B+ = two 300B parallel internally, double the filament current, double the plate current with half of the output impedance.
Pricing:
Option 1: $849.99 per premium matched pair with one year warranty. 
Option 2: $749.99 per premium matched pair with 30 days warranty. 
Shipping:
For U.S. domestic shipment, we use USPS priority mail with insurance -- $20 for the first pair. Express shipping is also available at higher shipping cost.
For international shipment, we either use DHL or USPS express. Please email us your country and city, so we can find out the shipping cost for you.

Copyright@2018 Sophia Electric, Inc. All rights reserved.